Rosco's Lotto Fever - version 2
Oh. My. God. The Draft is like totally almost here. And yes, despite my hate last year on Isiah and the Knicks - they actually proved me wrong - did slightly better than expected and didn't rig the draft. In fact, my Portland Trailblazers (and apparently a lot of people's Portland Trailblazers - which was a surprise to me - it seems like there are a FEW more Blazer fans out there post Lottery Draft) have the first pick. I can't tell you how elated I was that day - or any day since - let's just say more than one pair of undershorts have been soiled.

But, let's get on with the mock lotto draft action - because, well, because if you have a website, you are required to do an NBA mock draft - it's written somewhere. Most will be way wrong - but I plan on being the wrongest.


1. Portland Trailblazers - Greg Oden (C Ohio State)


Holy crap, do I want to write Kevin Durant in there soooo much.... But, I'll be unbelievably happy to have a charismatic guy like Oden. He was pretty much a force against all those not-so-great doughy white guys in the Big Ten - and the in the tournament, he wasn't too shabby either. I'll be alright with him putting up 18 and 12 a night. But, for the love of God, can we get someone exciting to watch...like -



2. Seattle Supersonics - Kevin Durant (SF Texas)


- Yeah - a stud, no doubt about it. This guy is pre-packaged goodness (like a mint condition 1982 Snake Eyes with Uzi still in his box). What I wouldn't give for the second pick in the draft - Effin' Sonics. This guy did stuff on the court I had never seen anyone ever do - and the second time he made that Acie Law shut up!



3. Atlanta Hawks - Yi Jianlan (SF/PF China)


Okay, this one I am picking based on the pick - not necessarily Atlanta - because if Atlanta had it's way it'd probably screw this pick up something awful. But it's not really their fault - who should you take at #3 where there isn't someone just as good? But still, Atlanta = not good.



4. Memphis Grizzlies - Mike Conley (PG Ohio State)


Yep. I said it - Damon Stoudamire not good enough. Oh, and they totally DIDN'T tank, no, they just didn't have the talent, that's all - karma had nothing to do with them losing the lottery. Nope. Not a bit.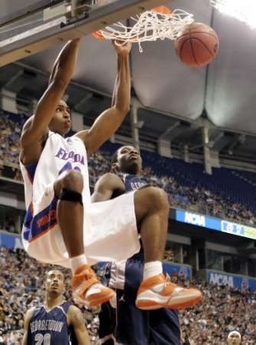 5. Boston Celtics - Al Horford (PF Florida)


Why when they have Al Jefferson? Because Danny Ainge is not a good GM - not at all. You know that everyone in the front office told him, "Don't talk to Kevin Durant, don't - STOP! Oh God!" Also, not karma - nope.



6. Milwaukee Bucks - Joakim Noah (PF/C Florida)


Well, Bucks, you should probably get some backup help for Bogut and Villenueva, since they were all injured and all. I mean, you wouldn't put them on the injured list just to better your odds at the draft lottery, would you? That's what I thought - get the insurance in Noah - he won'y break in two once he matches up against Dwight Howard at all.



7. Minnesota Timberwolves - Jeff Green (Sf/PF Georgetown)


What is this? The worst GM awards? Go with a safe pick McHale. You and your 80s Celtics teammates are stinking up the front offices. Safe. Solid. Pick.



8. Charlotte Bobcats - Brandan Wright (PF North Carolina)


Why not? What the hell do you guys need? All your starters are under 26 and are, well, decent, if not unspectacular. Take the guy before he becomes a steal before someone else.



9. Chicago Bulls - Corey Brewer (SF Florida)


No needs? No problem. Take the best guy still available - that's mini-fro Brewer. Sure the Augmon comparisons abound - but that's not a bad thing. Plus Brewer is biodegradable - more earth friendly than plastic - so the environuts should be all over him.



10. Sacramento Kings - Spencer Hawes (C Washington)


Oh man, this franchise is a sinking ship. Everyone jump off now - not so fast, Mike Bibby. Why not take the next Dollar Store version of Brad Miller, especially since about now Brad Miller is the Dime Store version of Brad Miller.


11. Atlanta Hawks - Acie Law (PG Texas A&M)


You told Kevin to shut up in game one. I respect that. But, I also hate you. But, secretly like you. Go git 'em, Acie.



12. Philadelphia 76ers - Al Thornton (SF/PF Florida State)


What's better than one uber-athletic small forward that can jump out of the gym and wow the crowd with dunking hijinks? Two of 'em. But, expect Dalembert, Miller, and Korver to be gone - only so that the 76ers can secede from the NBA and become the basketball version of Cirque de Soleil.



13. New Orleans Hornets - Thaddeus Young (SF Georgia Tech)


Nice upside on this kid. And well, let's face it, Desmond Mason isn't doing much with his all-gold contract - so might as well find a replacement - someone that Chris Paul can pass to with a little confidence.



14. Los Angeles Clippers - Julian Wright (SF Kansas)


All this means is: Pack your things, Corey!

Okay, well there you go, I am going to be completely wrong - but that's fine, because it's going to be a good one. Oh, and you Portland fans out there (and you newly adopted fans) make sure you watch the whole shebang - because if you're not expecting anything between #1 and number #37, you're going to miss out...